This month we are excited to highlight the husband and wife team of Dana Wills, ATC, CCRP and Rodney Wills. They are Exercise Physiologists with Baptist Health Richmond Cardiac Rehab in Richmond, KY, where Rodney is also an ambassador. Dana is a past President of KCRA and Rodney the Social Media chair, both are actively involved with the organization. They further extend their outreach to the cardiac rehab community by speaking to Exercise Physiology majors at Eastern Kentucky University, helping them to decide if Cardiac Rehab will be a good career choice.
Dana and Rodney are exceptional at what they do. To say they take a unique approach in their clinic is an understatement. We reached out to them to learn more.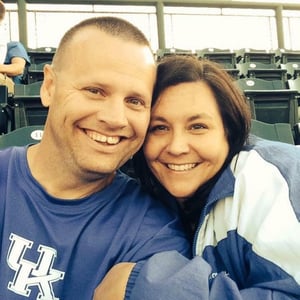 What interesting or unique approach have you implemented to connect with your patients?
Having a heart event can be very scary. When our patients come to us, we try to ease their apprehension by adding an element of humor to our patient care. One quote we live by is "If I can make one person laugh long enough to forget their problems, then my day was not wasted." Thankfully, Rodney and I don't embarrass easily and will do what is needed to entertain our patients. Humor is sometimes one of the best medicines!
How do patients react or how does your routine change when dressed in characters? Do they enjoy it?
I can absolutely attest to the benefits of being in costume for our patients! It is INSTANT joy when they see us, especially Rodney! It brings a huge smile to their faces. I have seen patients who are very withdrawn and who we've been unable to reach in other ways come right out of their shell. It changes their whole relationship with the staff and other patients, and the value of Cardiac Rehab in their lives increases as a result. The costume days help us to provide a fun, entertaining environment for our patients that takes their mind off the exercise they are doing, encourages them to focus on fun and fellowship with the other cardiac rehab patients, and helps build a sense of community.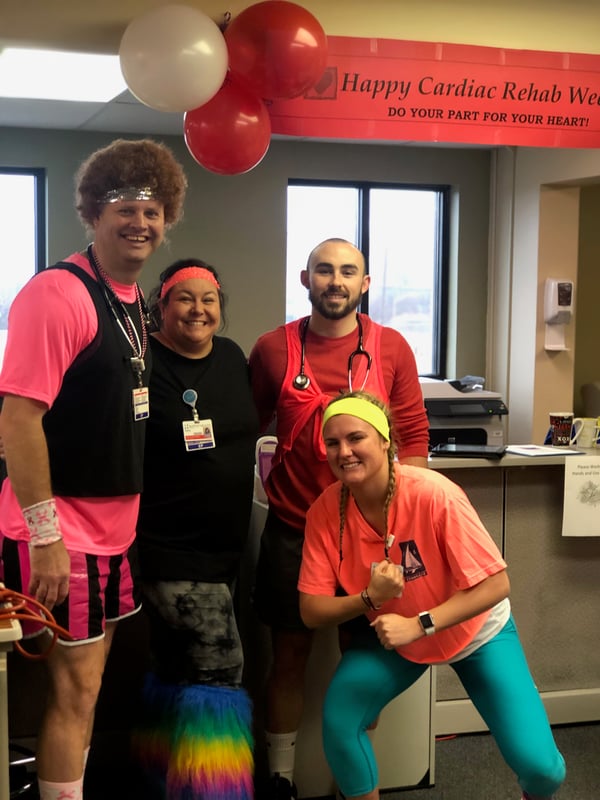 The Baptist Health Richmond Cardiac Rehab Team
Can you give me an example of one of your most memorable patient successes?
We had a middle-aged lady who came into our clinic after having a massive MI and CABG who was confined to a wheel chair. Both she and her family were terrified. Her husband wouldn't leave her side at first. She worked so hard, as did our team, communicating with her MD's and helping to maximize her medication regimen. She was able to ditch the wheel chair, and gradually progress to the use of a walker, then a cane, and now she walks without assistance. She still attends our CR as a Phase 3 patient 15 years later.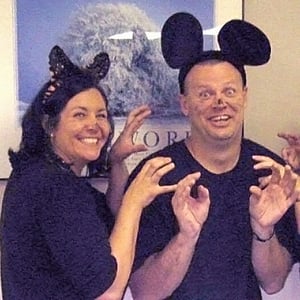 What makes your clinic successful? What factors do you feel are required?
A team and patient centered approach. The team aspect of treatment is important to a well-functioning rehab. It's sort of like a ballet where everyone has their part, and when it works its smooth and efficient. The patient centered approach is impactful for both us and them. It allows us to really focus on a specific need. We appreciate the close bond we get with each of our patients. Just taking time to talk to our patients and listen to what they need is such a huge part. We need to be their advocates and cheerleaders. I think sometimes we learn as much about life from them as they learn from us about cardiovascular disease and recovery.
WHAT DRIVES YOU EACH DAY?
Just seeing what a difference we make in people's lives. Being able to help people regain their confidence and independence. It is an honor to serve our patients and to be welcomed into their lives. I can't imagine a more rewarding career.