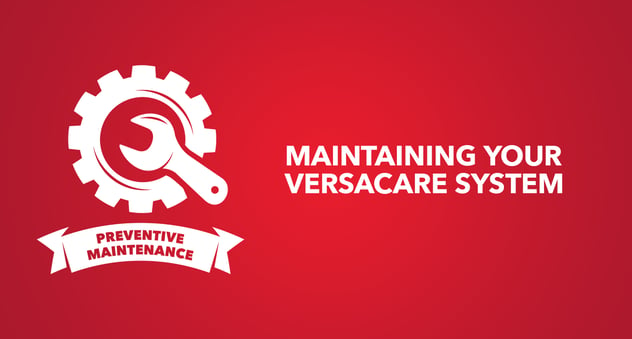 This post contains excerpts from our "VersaCare Best Practices" product sheet. If you would like the full document to review at another time, click the button at the bottom to download a PDF version:
The key factor in successful monitoring is the proper maintenance of your VersaCare components. Below is a list of recommended practices to help maintain your VersaCare system for optimal operation.
PC CLEANING/CARE
The computer processor chip cooling fins and fan, as well as the PC's power supply, must be kept free of accumulated dust. It is recommended that you use low-pressure compressed air every six months to clear away gathered dust if the rehab is carpeted, or annually if not carpeted. If your PC begins to perform poorly, clean it as recommended before calling for assistance as this will often solve the issue.
You can extend the life of your VersaCare PC by leaving it powered on throughout the week; shutting it down over the weekend, if necessary. If your facility IT department requires it to be left on 24/7, reboot the system at least once per week to reset Windows. An Uninterruptable Power Supply is highly recommended to protect the PC in case of utility power surges.
ELECTRODES
ScottCare has performed extensive tests with a variety of different electrodes and has developed an approved list that are suitable for use with the ScottCare's Tele-Rehab VersaCare Monitoring System. We can only guarantee the performance of our system when using ScottCare approved electrodes for Cardiac and Pulmonary rehab patients.
Patient Cables are frequently run under the shirt from the patient transmitter to the electrode site. In this configuration, it is possible for artifact to be introduced as the lead wires rub against the skin during exercise. ScottCare recommends wires are run in a manner that minimizes contact between skin and the patient lead wire.
LEAD WIRE CARE & MAINTENANCE
Lead wires are constructed of a very fine copper conductor that is insulated by a durable, flexible outer rubber layer. Given the nature of their use in an active rehab setting, it is important that the lead sets be properly stored and maintained. Cleaning should only be performed with a mild soap and water solution, applied with a gauze pad, small towel or the use of PDI Sani-Cloths AF3 (gray top or green top), the ScottCare recommended wipes for lead wires. The use of non-recommended ScottCare products such as cleaning solvents, alcohol or hydrogen peroxide may affect and degrade the life of the product and its performance.
Lead wire sets should never be wrapped or coiled around the transmitter for storage. Storage in this manner can result in breakage of the inner copper conductor and cause subsequent signal dropouts & intermittent operation. Wire sets should be stored straight or hung from a suitable holder whenever possible.
We recommend the occasional cleaning of the electrode snap with a Q-Tip dipped into alcohol to remove any contaminants, particularly within the snap hole where the electrode snaps to the lead.
Do not remove the white/red/green lead wire snaps by pulling on the wire itself. Instead, grasp and pull from the snap itself to remove it from the lead.
While observing these steps will ensure maximum performance from your lead wires, they do have a limited lifespan and will wear out, requiring periodic replacement.
We hope that these tips are helpful in your care of your VersaCare System. Please call our service department (1-800-243-9412) if you have any other questions!