The ScottCare Corporation announced the newest version of its multi-parameter telemetry solution, TeleRehab VersaCare 2.1, which is the industry's first Windows 7-based cardiopulmonary rehab telemetry system and includes direct integration with the American Association of Cardiovascular and Pulmonary Rehabilitation's (AACVPR) Outpatient Cardiac Rehabilitation Data Registry.
AACVPR R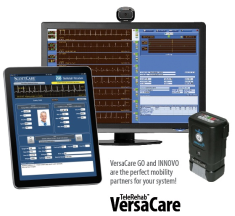 egistry integration enables VersaCare users to more easily and precisely benchmark and manage patient outcomes against national data, helping to improve overall program results. "We've been an avid VersaCare user, particularly of VersaCare's Outcomes package, for many years now," said Deborah Recko, manager of the cardiac and pulmonary rehabilitation center at St. John Medical Center in Westlake, Ohio. "Our team is already impressed with the way the new version has amped up reporting and simplified the transmission of Registry data. We look forward to making the most of it for our patients."
VersaCare 2.1 has been optimized for quicker, more intuitive performance and includes one-click modality transition; advanced Outcomes (Microsoft SQL) query capabilities for customized reporting; SF12 and SF36 mental and physical composite scores; and a more user-friendly layout for VersaCare's mobile companion, VersaCare GO. VersaCare 2.1 also includes the option of HIPAA-compliant encrypted hard drives and flash drives, as well as the recently introduced INNOVO, a rechargeable digital transmitter that incorporates multiple customer-centric features to simplify operation, conserve battery power, heighten durability and reduce operating costs. INNOVO transmitters are compatible with all ScottCare digital telemetry systems and are available with 3- or 5-wire leads.
As part of the VersaCare 2.1 release, ScottCare is also taking the lead to provide cost-effective solutions to integrate cardiopulmonary departments within the enterprise IT systems of single and multi-facility healthcare institutions. ScottCare's Enterprise Integration Solution facilitates integration of one or more VersaCare installations with a single enterprise electronic health record (EHR) system, while meeting the HIPAA and patient data management needs of the hospital system. "Our ability to serve multi-site facilities served by an enterprise EHR is unique in the industry and will allow hospitals to leverage existing hardware, reduce interface costs and protect patient data," said Theo Jordanides, VersaCare's product manager.