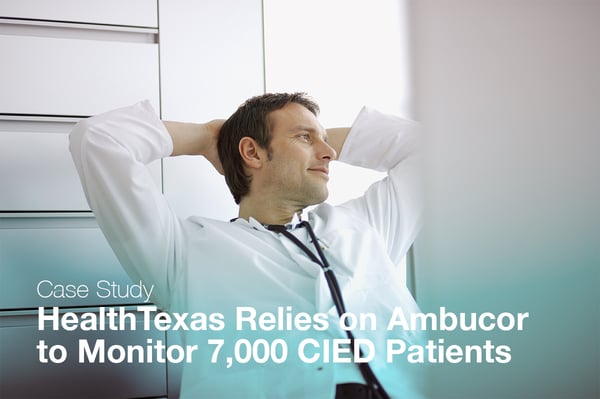 HealthTexas Provider Network (a group of medical practices affiliated with Baylor Scott & White Health, one of the largest nonprofit healthcare systems in the U.S.) had a backlog of remote cardiac monitoring transmissions. The seven heart clinics in the network's North Texas Division alone had approximately 7,000 patients with implanted pacemakers, defibrillators and loop recorders — and only a few people in each clinic to monitor them. While alerts were triaged within 24 hours, regular transmissions were reviewed and interpreted days, sometimes weeks, later.
When Kevin Coit joined the organization as manager of clinical informatics in mid-2018, his first task was to address the accumulation of 31-day transmissions still waiting for review.
"This backlog was a concern because sometimes regular transmissions reveal medical conditions that need attention," says Coit. "For example, maybe a patient with a pacemaker had a nonsustained episode of atrial fibrillation. That wouldn't necessarily trigger an alert, but it could be a stroke risk for the patient. We knew we needed to improve remote monitoring quickly."
Processing 350 unique remotes each week wasn't feasible for HealthTexas staff. They already had a full schedule with patient care and administrative duties. So, Coit began the search for an outside vendor.
Capacity for large practices
"The amount of data we get in a practice of our size is significant," says Coit. "Loop recorders transmit every 31 days and sometimes multiple times within a 31-day period. Not all remote cardiac monitoring vendors could handle that volume."
After evaluating several vendors, Coit and his division of HealthTexas chose Ambucor, primarily for its ability to scale up or down to meet demand. In January 2019, Ambucor began monitoring the daily flow of remote transmissions for HealthTexas as well as chipping away at the backlog of 31-day transmissions. By early June, the backlog was gone.
"Before we hired Ambucor, it seemed like there was no way our internal team could ever catch up on monitoring," says Coit. "There would be more transmissions each evening than there had been in the morning, even after working all day to process them. Ambucor took care of that in just five months."
Unsurpassed clinical acumen
But size and speed weren't all that impressed Coit about Ambucor. Its clinical acumen was hard to match. Ambucor teams include only certified technicians and accredited healthcare professionals, including nurses and physician assistants.
"Our Ambucor team is competent and consistent," says Coit. "I don't have to worry that someone isn't qualified to handle remote monitoring the way HealthTexas expects. As we've seen more and more of their interpretations, we've been assured that their level of proficiency is very high — and that's comforting to our physicians."
Ambucor schedules monitoring transmissions only Monday through Friday, during HealthTexas' clinic hours. But they monitor 24/7. The Ambucor team views each transmission and exports it to OneView™ CRM, where it waits for interpretation. Once interpretation is complete, the team sends the report to CardioFile, where the HealthTexas staff reviews it and loads it into their electronic medical record.
Standard transmissions are processed within three days. Alerts are processed immediately, and Ambucor sends the HealthTexas clinic a secure, encrypted email. For potentially life-threatening alerts, an Ambucor team member calls HealthTexas physicians directly. Each clinic sets its own protocols with Ambucor.
"What happens if a potentially deadly alert comes through at 2 a.m. — or at 2 p.m. on a Saturday?" asks Coit. "Most clinics don't have coverage then, but Ambucor does."
Increased revenue
In addition to quality monitoring, Ambucor has helped increase patient compliance with transmissions. An Ambucor team member is responsible for contacting patients who miss a transmission, to make sure their device is connected and working properly.
Increasing compliance has helped boost revenues for HealthTexas. So has timely processing of transmissions, since third-party payers often require that providers report care within three to six months to receive reimbursement.
Furthermore, Ambucor's support with remote monitoring has freed clinic staff to perform more device checks in clinic, rather than rely on device vendors. That also has increased payer reimbursements for HealthTexas.
"Today we do 85-90% of our own device checks," says Coit. "Before Ambucor, we only did about 10%. Their help with remote monitoring has financially benefitted our entire operation."
HealthTexas pays Ambucor a set rate for the services it provides, per billable transmission. That allows HealthTexas to keep all payer reimbursements for both professional and technical fees. (Some remote monitoring vendors recoup technical fees from payers instead.)
"That was another benefit of working with Ambucor," says Coit. "Some other vendors were just too expensive."
Ambucor's flexibility and teamwork has been a great asset for HealthTexas, adds Coit.
"We've established a great rapport over the past 2.5 years, with open, honest communication," he says. "It's been nice having the Ambucor team on board and knowing they can be trusted."