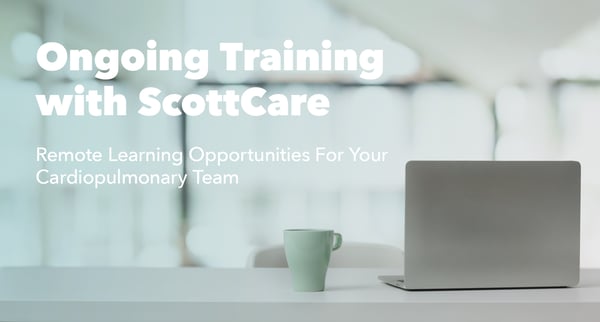 ScottCare Webinars
In order to stay in touch with our customers, and to help make use of time while patient attendance is at a low in most cases, ScottCare has ramped up our educational efforts with ScottCare University. The webinars have been developed by Paul McLean, ScottCare's Customer Success Specialist. Through his years of experience in cardiopulmonary rehab and training, Paul has developed a wonderful understanding of the needs of the those new to VersaCare.
Paul says, "We have offered webinars as a means of training for some time. But COVID really kicked it into high gear. We knew there are many individuals out there who wanted or needed additional training, but their typical schedules didn't allow it. We wanted to take the opportunity to offer a free method of improving their skills on a variety of topics. It is our goal that after viewing a few of these webinars, any member of the cardiopulmonary team will be able to return to the clinic feeling stronger in their knowledge of the software. Whether it's an aspect of ITPs, or a complete overview of VersaCare, our hope is that our ScottCare University webinars deliver valuable training, allowing the care providers to spend less time in front of the computer and more time with their patients."
If you would like to be notified of upcoming webinars, register here: https://www.scottcare.com/training-request
Online Training Library
ScottCare's live webinars aren't the only online resource for VersaCare and rehab monitoring training. On ScottCare.com, customers have access to a growing library of training videos. The topics are discussed in depth and range from a complete overview of VersaCare to specific tasks like patient preparation. Derived from our successful webinar series, each video features one of our ScottCare Specialists guiding the viewer through the subject, presenting not just instruction but also the value of certain aspects.
To access the online training library, you must be a ScottCare customer. Simply click to request your login credentials.